7 September 2016
Book: The Danish Model Inside Out
The Danish Model Inside Out - Comparative Perspectives on Danish Labour Market Regulation is an edited book that examines the Danish Labour Market Model's strengths and weaknesses, when compared to other models of labour market regulation. The book is a celebration of Jesper Due and Jørgen Steen Madsen and their numerous publications on the development of the Danish labor market regulation. The concept, The Danish Model, as Due and Madsen along with Carsten Strøby Jensen launched in their book of the same name in 1993, is the focal point for all the contributions in this book. Since the launch of the concept The Danish Model in 1993, it has been a core concept in the analyses of - and debates on labor market regulation in Denmark - not least at The Employment Relations Research Centre (FAOS), which Jesper Due and Jørgen Steen Madsen founded 25 years ago. The concept of The Danish Model highlights the key features of The Danish collective bargaining Model and has in many ways helped to focus attention on the events and changes that are essential in the flow of daily news updates on Danish labour market regulation.
The book includes contributions from a wide range of Danish and international researchers as well as from key representatives of the Danish social partners, all of whom have worked with Jesper Due and Jørgen Steen Madsen - and the rest of FAOS - over the years. The book was presented and launched at a conference on September 6th organised by FAOS and the Department of Sociology, University of Copenhagen. Here, a number of international and national key note speakers presented their contributions to the book, and the findings of the book was debated by panels consisting of leading social partners in Denmark. 
Read more about the individual contributions
Several researches at FAOS have contributed to the book. You can read more about the contributions written by researchers at FAOS here.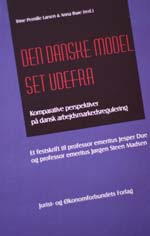 You can buy the book online here