18 June 2013
Danish companies' use of Eastern European workforce
Book by Søren Kaj Andersen and Jonas Felbo-Kolding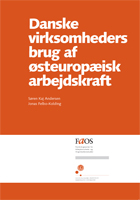 Despite the financial crisis and the subsequent rise of unemployment that followed, Eastern European labour migrants continue to look to Denmark for work. Why is this? Do employers choose workers from Eastern Europe because they are more willing to work and are more flexible, or because they are paid lower wages than Danes in comparable jobs? And what are the motivations for choosing Eastern Europeans as workforce? These are the main issues of this book, that analyzes Danish companies' use of Eastern European labour.
This book deals in particular with the labour strategy or practices that companies have developed in relation to the use of the Eastern European labour. It also looks into what proportion of Danish companies that make use of labour from the east, and in which industries we find particularly many Eastern European workers.
The analysis in this book are based on several different data sets, and the central information comes from 829 Danish companies and their use of Eastern European workers.
The book is published by FAOS, Department of Sociology, University of Copenhagen, june 2013.