02 October 2012
"Yellow" and unorganised workers - a challenge for the Danish labour market model?
Seminar at FAOS 19th of September 2012

More than 200 interested participants attended a seminar arranged by FAOS concerning the organisation of employees in Denmark.

The starting point for the seminar was the declining union densities among the traditional trade unions in Denmark. During the last ten years many employees have left the traditional unions or have shifted to one of the ideological alternative unions (the so-called "yellow unions") who primarily offer individual legal counselling and assistance and have a much cheaper membership fee than the traditional unions.

On central as well as local level this raises a number of questions for the social partners in Denmark. For instance:
• How does the declining union density affect the legitimacy of the Danish trade unions, when they participate in collective bargaining and social dialogue?

• How do local shop stewards and managers deal with unorganised workers at company level?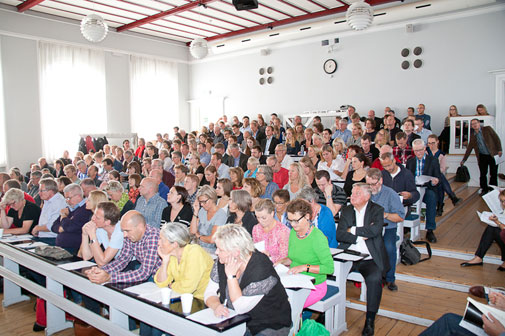 The Auditorium at The Geological Museum in Copenhagen was packed at the FAOS-seminar on the future of Danish labour market model. Photo: Steen Kelså. 2012.

In the first part of the seminar researchers from FAOS explored the implications of the declining union density for social partners at central level: Christian Lyhne Ibsen, PhD Fellow at FAOS, emphasised that the union density of the traditional unions has declined from 69 % to 59 % in the last ten years.

- The declining union density weakens the legitimacy of the unions and increases the probability of more legislative regulation of the Danish labour market in the future, said Jesper Due, Professor at FAOS.

The second part of the seminar concentrated on the challenges experienced by shop stewards at local level when dealing with unorganised and yellow workers. Anna Ilsøe, Assistant Professor at FAOS, stressed that shop stewards seem to have greater potential for recruiting yellow and unorganised workers for the traditional unions if they use an including strategy rather than an excluding strategy.

The shop stewards are generally in a difficult position:

- Our research shows, that a considerable number of shop stewards have experienced insufficient support from the local union office and a fourth of them lack arguments to convince the colleagues that they should be members of the traditional unions said Trine P. Larsen, Associate Professor at FAOS.

The seminar ended with a panel discussion with representatives from both the central and the local level of the traditional unions in Denmark.